In September 2000 a mural was completed on the wall in the multi-purpose area. The mural was designed by Aboriginal artist Kevin Duncan and the theme for the mural was -
                                             "Reconciliation - Sharing Our Future"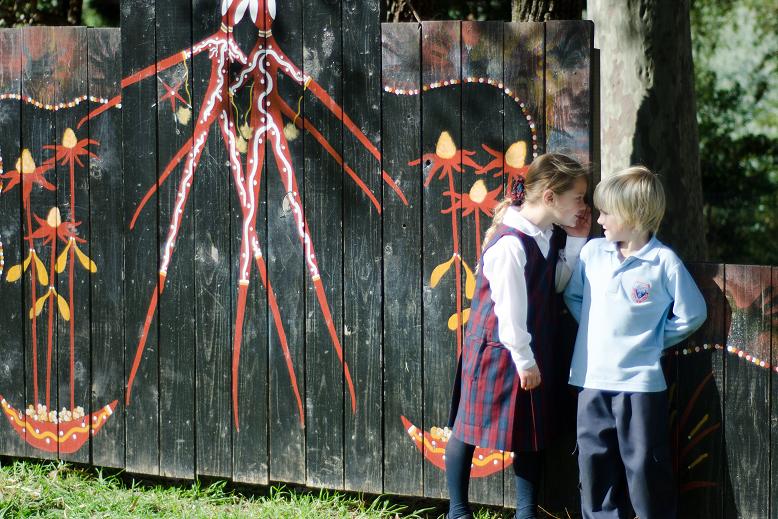 The multi-purpose area was funded by Wamberal PS P&C in 2000. A grant application to Gosford District Department of School Education was successful and this Reconciliation Grant of $300 was used towards the cost of the mural. A P&C working group constructed the timber wall and railing.
Kevin Duncan used three colours (red, yellow and black) for the mural. It was painted on a wall 7m long and 1m-2.3 m high. The wall is constructed of vertical planks 140mm X 45mm treated pine. On completion a protective anti-graffiti coating was applied over the whole mural.
All Year 6 students were involved with the project as their handprints provided a border around the top of the mural. The handprints of the artist, school captains and an Aboriginal student in Year 4 as well as the ASSPA teacher representative were at the top centre of the mural.
Kevin Duncan provided the following information about his mural:
Dots - The linking dots across the mural represent the Rainbow Serpent, a symbol of creation.
Handprints - Represent the educational stages throughout people's lives.
The Figures - The two figures at the centre of the mural represent BAIYAMI (male) and YHI (female) spirits. The "true self" or spirit which everyone has, links us all, Aboriginal and Non-Aboriginal Australians. These figures are dressed in a traditional way. The body design represents creation, the dots represent water. The yellow and white feathered head dress and arm bands are of cockatoo feathers. These feathers are a symbol of strength and protection.
Grass Plants - These are along the base of the mural. Grass plants were an important food source for Indigenous people. Aboriginal people used the seeds to make bread. The yellow seeds were collected, husked, ground and cooked as damper. The leaves of the grass plant were used for baskets and dilly bags.
Stars of the Southern Cross - These are a symbol of the land where we all come from.
Waratahs - Are the symbol of growth and new life.
Coolamons - These were Aboriginal carrying instruments (for carrying fruit, as a baby carrier).
When the mural was completed, after a week, Kevin Duncan invited students to be present while he blessed the mural in his Aboriginal language with music and dance.
At a P&C working bee native plants and mulched gardens were created around the multi-purpose area. This area is used as a playground space, as an outdoor learning area and as a good level surface for class parties.
As a unique part of the landscape of Wamberal Public School, the mural holds an enduring message for Aboriginal Reconciliation for present and future students.